KANIKA KAPOOR Live in Concert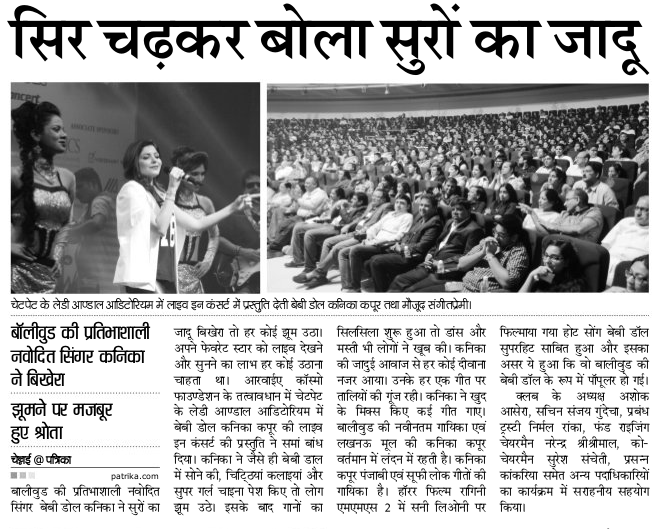 RYA COSMO MEDI BANK serving since 1995 is ready to serve chennai with philantrophical model adopted by its SJDC DAY CARE CENTRE
with all inhouse medical facilities like Subsidized Dialysis, Ultra Sound Scan, Echo, ECG, TMT, X-Ray, Laboratory, Multi-Speciality Consultancy, ultrasound scan, endoscopy, colonoscopy,Cost to Cost Pharmacy, Eye clinic, modernized Physiotherapy and Dental Unit. Another initiative of the foundation is to provide services to meet the immediate healthcare needs of marginalised communities in slums, through standalone camps offering comprehensive health services curative, preventive, promotive and referral services.
Under the RYA Cosmo MEDI BANK the NGO distributes free medicines to needy patients in the Geriatric Ward & Cancer ward of Govt. General Hospital, Chennai. R.Y.A. Cosmo Foundation regularly conducts activities such as Medical, Cancer & Eye Camps. It also operates & manages a full-fledged Medical Day Care & Dialysis Centre, Cost-to-cost Pharmacy & Dispensary that offer affordable medical assistance to the needy & poor. The motto of MEDI BANK is to 'CARE THE UNCARED'
Achievements of R.Y.A. Cosmo Foundation are simply noteworthy such as providing medical assistance to needy patients of Geriatric Ward at the Government General Hospital since 1995 and Cancer Ward at the Government General Hospital since 1998, Donated a Lyca Microscope along with accessories in year 1999 to Adyar Cancer Institute, Served in the Natural Calamities by providing Medicines & Materials worth 1 Crore during Supe Cyclone of Orissa in 1999, Relief materials worth Rs.30 Lacs distributed to Earthquake affected areas of Bhuj, Gujarat in 2000.
Built RYA Cosmo School at Kharoi Village, Gujarat, Materials worth Rs.15 Lacs was sent to Relief Camps of Tsunami affected peoples in 2004 and Multi-Mega speciality health camp was organised a Koovathur Village, near Kalpakkam where around 12000 peoples were screened with a cost of Rs.50 lacs and to top all that R.Y.A.Cosmo Foundation has Treated more than 3 Lac patients and conducted over 2000 dialysis through its Medi Bank Hospital.
Responding in hour of crisis when torrential rains pounded Chennai city leaving the entire city stranded, RYACosmo provided free medicare facilities for residents. Five Thousand Relief Kits were distributed across affected areas by the enthusiastic volunteers and Two Mega Weekend camps were conducted catering to around 4000 needy people.
All this is possible only because of philanthropy nature of our donors and trustees involved. To fullfill strategic aim focuses towards rendering quality clinical services at an affordable cost, accessible to all and dream of rendering health for all by breaking the barriers of social inequality meet its social obligations, we have embarked on a Mega Fund raising event Signature presents "KANIKA KAPOOR - Live in Concert" powered by "Vikranthi Foundations" & "Cox & Kings" under the visionary and dynamic leadership of Shri Narendraji Srisrimal, Our President Shri Ashokji Asera , Secretary Sanjay Gundecha , Managing trustee Nirmal Ranka and co Chairman: Suresh Sancheti and Prasan Kankariya on 3rd January 2016 at Sir Mutha Concert Hall.
The famed Bollywood Singer Kanika Kapoor rocked the socks of everone in 2015 with everything from Roys Chittiyaan Kalaaiyan to Dilwale Tukur Tukur and that earworm called Supergirl from China. The popular singer performed at London's Wembley Stadium in the presence of Prime Minister Narendra Modi and Indian diaspora on November 13. In 2014, she participated in a concert tour across North America, entitled "SLAM! The Tour", in which she performed alongside Shah Rukh Khan and Deepika Padukone. Apart from concerts and tours, she has also been signed by an NGO for children, as their brand ambassador, where she promoted the cause of children's education.
The event would not have been possible without the support of co sponsor Norwood, powered by sponsor C.R.Jewellery and associate sponsors JCS Jewel Creations, Mohanlal Jewellers Pvt Ltd, WHITEFIRE The name in diamond and Visionary RCM along with our members Mahendra Pungaliya, Shantilalji Lunawat, Mahaveer Khivsera, Paras Bafna, Arun Bohra and other volunteers. The proceeds of the concert will further the cause Medi-Bank project of RYA Cosmo Foundation helping us to provide better service to the needy. For Donor Passes contact Umesh Agarwal 9840329895

Facebook Event Promotion Page

https://www.facebook.com/events/1049368521782076/
Link: http://epaper.patrika.com/683748/Rajasthanpatrika-Chennai/05-01-2016#page/5/1